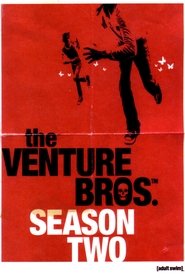 The Venture Bros. Season 2 Episode 6
The Phantom Limb and Dr. Girlfriend agree to a civil double date with The Monarch and some girl he met on the internet in order to discuss The Monarch's official re-entry into the Guild of Calamitous Intent. Doc and Brock become the unwitting pawns in a low-grade pissing contest when Phantom Limb's sics the Guild's commandos on the Venture compound to prove his dominance. Can Brock hold off an army? Can Doc escape death and finish watching the worst porno ever?
Episode Title: Victor. Echo. November.
Air Date: 2006-08-13