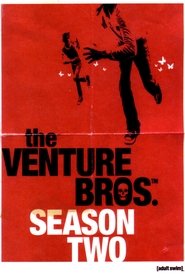 The Venture Bros. Season 2 Episode 11
When Dr. Venture finally succeeds in attaining the holy grail of superscience – the revivification of a human corpse for fun and profit – a washed up gang of wandering former teen sleuths is convinced that the Venture Compound is haunted. Their investigation uncovers something far creepier. Meanwhile, Orpheus shepherds Brock through a crisis of conscience with the help of a New Age shaman and a bizarre tea party.
Episode Title: ¡Viva los Muertos!
Air Date: 2006-10-01