Please Wait for the Video to Load !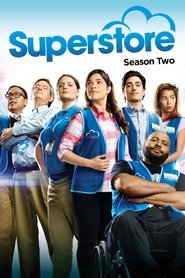 Superstore Season 2 Episode 22
Everyone in the store is on edge as Glenn tries to figure out which employees to lay off. Jonah truggles with the fallout of an admission he made to Amy, Garrett and Dina spar, and Mateo forms an alliance to keep his job. Meanwhile, a tornado warning goes into effect at the worst possible time, forcing the staff into uncomfortable pairings.
Serie: Superstore
Guest Star: Blair Beeken, Doug Hurley, Felipe Esparza, Hermie Castillo, Irene White, Isabella Day, Jon Miyahara, Kelly Schumann, Kiel Kennedy, Linda Porter, Matt Oberg, Maury Morgan, Michael Bunin, Niccole Thurman, Nikhil Pai, Ryan Gaul
Episode Title: Tornado
Air Date: 2017-05-04
Year: 2017